Philadelphia Veneers – Porcelain Veneer Dentist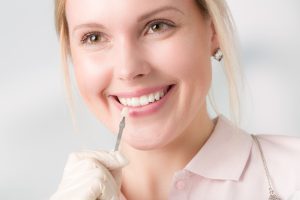 Veneers are very thin pieces of durable, tooth shaped porcelain that are custom made (for shape and color) by a professional dental laboratory. They are bonded onto the front of teeth to create a beautiful and attractive smile. Our dentists here at Advanced Family Smiles have extensive training with veneers and offer several types of elite veneer services to residents of the greater Philadelphia area.
Dental veneers can address many different cosmetic issues to create a more beautiful smile. This may include:
Correcting crooked or slightly misaligned teeth
Hiding the appearance of misshapen teeth and any abnormalities affecting the shape of the tooth
Recoloring teeth that have extensive discoloration or deep stains
Evening the appearance and size of small or oversized teeth.
Closing overlarge or uneven spaces between teeth
Addressing chips, cracks, or other signs of wear and tear on dental tissue
Dental veneers are completed within one or two appointments. They are non-invasive and typically do not require any anesthetic or sedation. Our dentists will prepare the tooth's surface and then complete a dental impression to make sure the veneer is fitted to your individual tooth. The color shade is matched to teeth not covered by veneers. The tooth is cleaned to prevent any future dental complications. Then finally a cement is applied, and a light beam allows the bonding agent to attach the veneer to the enamel's surface.
Learn More About our Philadelphia Veneer Treatment Options
Contact our office at 215-637-7474 for a dental veneer consultation in Philadelphia. Our dental providers will make sure that your veneer fits you and your lifestyle and hides any imperfections in your smile.