Philadelphia Family Dentist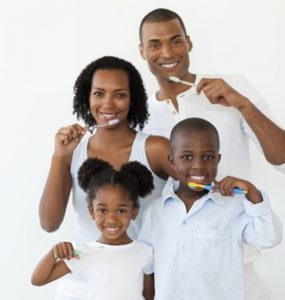 We understand that it can be difficult to find a trustworthy family dentist in Philadelphia. If you want the best oral health care for your family, it is important to find an experienced and skillful Philadelphia dentist that will help you create healthy smiles for everyone in your family. The team of dental professionals at Advanced Family Smiles have years of experience in improving the health and aesthetic value of their patients' smiles. Their focus on patient care and commitment to continuing education ensure the best treatment possible for all members of your family.
Are you wondering how to keep your family healthy? A vital step to preserving your overall health is maintaining good dental and oral health. Good dental practices and early treatment have been shown to be more important than ever. Recent studies and research have revealed the link between the development of serious health conditions—like diabetes and heart disease—and certain oral diseases. Parents and patients must take steps to teach and follow appropriate at-home habits for themselves and their children. Patients must also take care to make regular visits with dentists to monitor their overall health. When symptoms do appear, inform professionals quickly. Immediate treatment can prevent the advancement of disease and further tissue damage.
Preventive Care
At our Philadelphia family dental practice, we know that your teeth and gums are worth protecting. Caries, or tooth decay, are the most wide-spread dental problem for patients everywhere. Damage from tooth decay can lead to serious problems, such as periodontal disease, that can require extensive treatment to fix. Luckily, with proper education on good oral health habits, tooth decay is also entirely preventable.
Our caring family dentists take patient education seriously and make sure that everyone who comes in for treatment understands what they can do to take care of their teeth outside of our office. We provide instructions on proper brushing and flossing techniques to keep caries from forming and damaging your oral health. Young patients get the chance to form positive oral health routines from an early age, so they can grow into adults with healthy smiles. We are proud to offer the following services as a part of our preventive care services:
· Exams and Cleanings
· Periodontal Disease Diagnosis
· Dental X-Rays
Mouth-Body Connection
At our Philadelphia family dental practice, our doctors are happy to explain what you can do to take care of your teeth and gums outside of twice-daily teeth brushing.
Diet plays an important role in keeping your teeth healthy. Our dentists recommend avoiding foods with added sugars or simple carbohydrates (which turn into sugars). When left to sit on teeth, sugar produces acid that damages enamel and can easily cause decay. Our dentists recommend foods that are rich in phosphorous and calcium so that all members of your family can keep their teeth healthy and strong. A healthy mouth reduces your chance for developing serious conditions that are associated with poor oral hygiene, such as diabetes and heart disease.
First Visits in our Philadelphia Dental Office
Our dentists can see patients as young as three years old and welcome parents and caregivers to bring in the young members of their family to visit our office and get to know the doctors and staff. Children are treated with special care and are allowed to sit in the dental chair and familiarize themselves with all the items our dentists might use to care for their teeth.
We value open communication and make sure that parents are kept in the loop when discussing beneficial oral health treatments for young members of their family. We understand that children who are fearful of the dentist grow into adults who avoid treatment at the risk of their health. The entire team of family dentists at our Philadelphia practice works to ensure that young patients feel safe and comfortable when they visit our office. We want to set the younger members of your family up for a lifetime of healthy smiles, not dental fears. Additionally, our younger patients are rewarded at the end of their appointment with a visit to the treasure chest.
Contact Our Philadelphia Family Dentist
It is important to start seeing your dentist regularly as soon as possible. At an early age, our dental providers can help patients learn how to take care of their teeth, in addition to comprehensive dental care, in Philadelphia, Pennsylvania. We are happy to set up a consultation to discuss your oral health needs! Our treatment plans are tailored to help you meet all of your family's oral health goals and to keep your teeth in excellent shape.
For more information on the family-friendly services in our Philadelphia dental office, contact us today or request an appointment online.
Our offices are open past 5pm Monday through Thursday, for those who need appointments after their normal working hours. We are also open on Saturdays to better serve our Philadelphia dental patients.