Northeast Philadelphia Dental Implants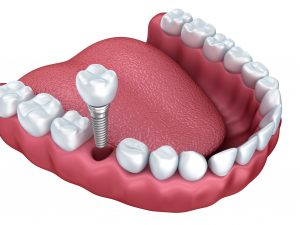 Looking for an oral surgeon in Northeast Philadelphia that specializes in dental implants? Patients seeking to fill the spaces in their smile caused by missing teeth can turn to Philadelphia's Advanced Family Smiles for dental implants. As an innovative solution for missing teeth, dental implants improve your oral health and bring confidence back to your smile. Our Northeast Philadelphia dental implant specialists are experienced in the placement and restoration of dental implants. At our dental practice, you are in good hands; with our dedication to continued education, we utilize the most cutting edge techniques to ensure patients receive the highest quality of implant treatment. Take back your smile and eat your favorite foods with confidence and zero pain with durable, convenient and permanent implants from the best implant dentist in Philadelphia!
Dental implants are a fixed restorative solution for missing teeth. These artificial teeth are directly inserted into the jaw for better stability and function. The post, or "root," of the implant is placed into the bone tissue. After healing, a crown, denture, or other restorative prosthetic is fitted on top of the site. Our dentists may ask patients to return for several additional visits, to make adjustments and monitor overall health. After this period, the teeth will be restored to full function and appearance, that will both look and feel natural to the patient.
To help the body accept implants at full function, Advanced Family Smiles uses modern tools and technology to help monitor patients following their procedure. Osstell treatments help shorten treatment and monitor health post-implant. Implant osseointegration, or the relationship between implant and biological structures, is an important component of healing. Failed dental implants can be painful, costly, and distressing to the patient. Our dental providers make sure your implant remains stable and quickly manage any dental risks a patient may have.
Contact Our Northeast Philadelphia Dental Implant Experts
Learn more about Osstell and implant treatments at Advanced Family Smiles. Schedule a consultation for dental implants in Northeast Philadelphia, with our dentists at 215-637-7474.