Our Philadelphia Dental Team
The process of trying to find the ideal dentist in Philadelphia for your family can be a difficult one. With so many dentists to choose from, where do you start? Our leading Philadelphia dental team consists of several very experienced and professional dentists with extensive training in a broad range of dental services. We encourage you to become more familiar with the backgrounds of our dental providers below and better understand why we are one of the fastest growing dental practices in the city of Philadelphia!
---
Dr. Olena Akbulut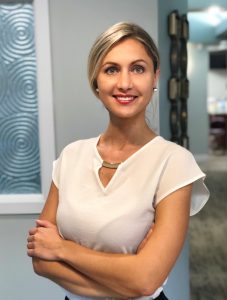 Dr. Olena was born and raised in Ukraine. She is a second generation of Dentists. She chose dentistry because of her fascination of combining science and art to create a beautiful smile and transforming human experiences. She is a highly trained and experienced dentist with a warm and caring personality that has allowed her to provide a low stress, gentle dental care environment for all her patients. She received her first dental degree from Ukraine in 2011 and her second DDS from University of Pennsylvania School of Dental Medicine.
Dr Olena has a wide range of experience in different areas of dentistry, from cosmetic and restorative dentistry to surgical treatments, root canal treatments, Invisalign. She believes in staying at the forefront of dental technology and techniques through advanced education and hands-on training. She realizes that many people are nervous about going to the dentist and is committed to easing every patient's fears and making them feel comfortable and relaxed.
Dr Olena received award from the Academy of Operative Dentistry for outstanding Achievement in Operative Dentistry. She actively volunteered in various events at PDM that provide dental treatment and education to the community.
Dr. Olena believes in keeping her body active as well as her mind. She loves to work out, goes hiking, biking, yoga and travel. . When she's indoors, she enjoys cooking, reading books, listening to podcasts and TED talks, that help her relax after a day at the office.
She is an active member of American Dental Association, Academy of General Dentistry, Pennsylvania Dental Association, SPEAR education, CDEworld courses.
---
Dr. Yoel Calzada-Sanchez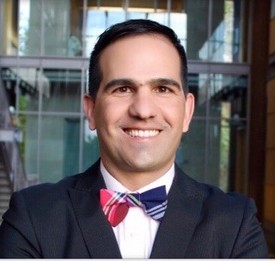 Dr. Yoel comes with extensive Domestic and International experience combined with passion and high degree of knowledge to provide with the highest level of dental care in a gentle and compassionate manner. Armed with a Doctorate in Dental Medicine from the prestigious University of Pennsylvania School of Dental Medicine, Philadelphia, PA in 2017, he has served on a variety of committees including being a student class member of the school's curriculum committee devoted to creating the best possible dental education for the University's students. During his stint in Pennsylvania, he has also assisted underserved communities comprising women, infants and children in order to provide oral health screenings for babies and at risk children while also providing their parents crucial information regarding nutrition and good oral health habits.
Hailing from a humble background in Cuba, with limited access to resources, he has learned the values of sacrifice and perseverance and has imbibed a sense of community service. Dentistry suits Dr. Yoel. His keen propensity for medical sciences, hand skills and deep desire to engage in community services could perfectly fit and fulfill the requirements of dentistry. In his early years, Dr. Yoel attended The Higher Institute of Medical Sciences of Villa Clara, Cuba, from where he graduated with honors as a Doctor in Stomatology (General Dentistry) in 2003. Post-graduation, he was involved in social service residency in Cuba where as a sole member of the dentistry office, he successfully treated individuals of all ages and educated them about preventative dentistry. In 2007, he moved to the USA that embraced him with open arms, presenting him with a kaleidoscope of opportunities to sink his teeth into. In the last 7 years of his career, he has been able to deliver value and make an impact at several of his dental practice assignments.
Dentistry had to be in Dr. Yoel's destiny because it aligned with his passion for excellent care, and providing with best treatment to patients. His drive for new knowledge matches the dentist's world incomparably. The key is hard work. Consistently Dr. Yoel has worked hard at what was in front of him so that each step he takes builds momentum.
---
Dr. Nick Patel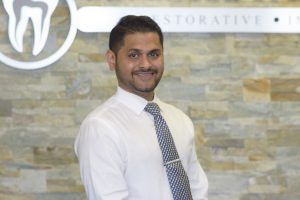 Dr. Nick Patel grew up in Bensalem, PA. He earned his undergraduate degree from Pennsylvania State University in Vertebrae Physiology in 2009. After attaining his bachelor's degree he went to earn his Doctor of Dental Medicine from the Kornberg School of Dentistry in 2013. He is a member of the American Dental Association, Academy of General Dentistry and Philadelphia Dental Society. His focus is on cosmetic dentistry and advanced restorative dentistry. He has received special training in the placement of dental implants and is Invisalign certified. In his free time, Dr. Patel enjoys jogging, hiking and cooking.
---
Dr. Dilip Dudhat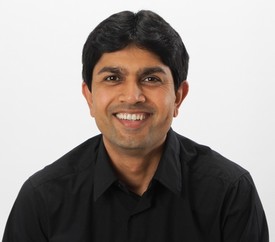 Dr. Dilip Dudhat is a native of Montgomery County. He graduated from North Penn High School in 1991 and from Temple University School of Dentistry in 1996, at the tender age of 23. Dr. Dudhat worked as a dental assistant and EFDA throughout dental school, placing him far above his classmates in accumulating practical experience in the dental field. Dr. Dudhat is constantly on a quest for knowledge, averaging six times the required continuing education credits mandated for license renewal. However, what really separates Dr. Dudhat from other dentists is his passion and love for the profession and his strong desire to please every patient in his care.
Dr. Dudhat has performed thousands of dental implant procedures. He is a former faculty member for Osstem Implant Training and a Fellow of the International Congress of Oral Implantologists. He excels in all aspects of cosmetic dentistry and is certified in Lumineers®. Dr. Dudhat is also an Elite preferred provider for Invisalign®.
Dr. Dudhat is married, and has a son and a daughter who both attend elementary school. His wife is also involved in the family business. He is a sports enthusiast, with his favorite team being the Philadelphia Eagles. He also follows the Phillies and the Flyers.
Dr. Dudhat and his staff welcome you to his offices. They are always happy to answer your questions and they strive to meet your dental needs. If you are looking to improve your smile, Dr. Dudhat is the dentist for you!
---
Erin – Dental Hygienist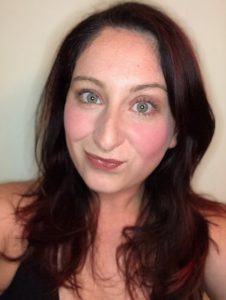 Erin graduated from Manor College's dental hygiene program in 2009, and has been a spirited hygienist ever since.  She is an upbeat and enthusiastic hygienist, that is passionate about fulfilling her role in overall patient care.  She puts her patients needs first and will help you achieve your goal of overall health.  If you are a nervous patient, Erin is the one for you.  She has a great bedside manner and will make you feel at ease.
Erin spends her free time with her family, and playing with her adorable rescue dog Timmy.
We welcomed Erin as part of our dental care family in March 2018, and hope you will welcome her into yours as well!
---
Meet Our Philadelphia Dental Team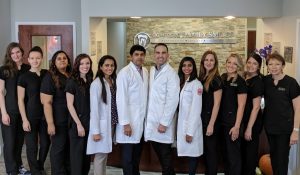 Each member of Advanced Family Smiles works with Dr. Kanak Trivedi, Dr. Dilip Dudhat, and Dr. Jay Patel to give you outstanding dental care in Philadelphia, Pennsylvania. Together with our dentists, they provide a welcoming, professional atmosphere for our patients. Meet our Philadelphia dental team in person and schedule a visit at 215-637-7474.