Northeast Philadelphia Teeth Whitening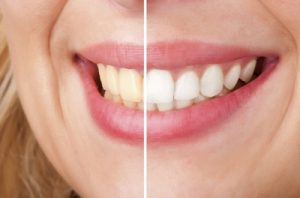 Searching for that whiter, brighter smile?  Advanced Family Smiles is happy to offer teeth whitening in Northeast Philadelphia.  With Advanced Family Smiles, you can find the smile of your dreams with our in-office and take-home teeth whitening treatments.  Our teeth whitening services are designed to remove discoloring from years of stains that have built up on your teeth.  We provide several options for whitening and will make recommendations on a case by case basis.
Using Opalescence® teeth whitening, our dental providers can give you an immediately brighter smile in the comfort of our office. Faster than over-the counter treatments, whitening with Opalescence provides fast, noticeable results. Using a compound of fluoride and potassium nitrate, this agent can brighten teeth while still protecting teeth against cavities. The solution also minimizes any post-procedure sensitivity that may occur. Easily applied by our dentists, the fluoride/nitrate compound does not require a subsequent light treatment and can be completed in under an hour!
With Advanced Family Smiles's home teeth whitening, you can take charge of your whitening treatment. With the guidance of our dentists, each patient receives the custom treatment they deserve. At your whitening consultation, our dental team will make molds of your teeth. From these, custom whitening appliances are created to fit your individual mouth. Whitening can be taken on the go, the whitening compound lightening both surface and deeper level stains.
Learn More About Our Northeast Philadelphia Teeth Whitening
Contact our office at 215-637-7474 to learn about our "Stay White for Life" dental program and schedule your teeth whitening in Philadelphia, Pennsylvania.