Root Canal Philadelphia – Endodontics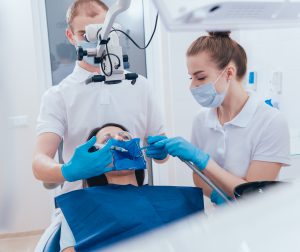 Are you searching for root canal treatment in Philadelphia?  Root canal therapy is an endodontic treatment that addresses problems within the inner structure of the tooth. These may be caused by decay, infection, or acute dental trauma (such as a crack or fracture). Root canal can relieve pain and prevent the death of the tooth. If the tooth is left untreated, tooth loss or removal will become inevitable and symptoms will spread.
At Advanced Family Smiles, our dentists can treat your symptoms, isolate the spread of the disease, and remove the source of infection.   As a comprehensive dental care provider, Advanced Family Smiles provides root canal therapy to residents of Philadelphia and surrounding communities. With high level training and equipment, our team of dentists makes endodontic therapy a much more streamlined and enjoyable experience for patients.
Our dentists perform root canal therapy treatments to prevent and monitor the spread of disease. To keep patients comfortable throughout the procedure, your dentist will use sedation or local anesthetics to numb the site of the root canal. A small hole is made to provide access to the inner pulp off the tooth. The afflicted pulp is filed and rinsed away, cleaning debris. An additional antibacterial medication may be applied, to temporarily close off the site and promote healing. The tooth is then filled with biocompatible material and sealed over.
Contact Our Philadelphia Root Canal Experts
To schedule a consultation or treatment, call Advanced Family Smiles at 215-637-7474. If you need immediate treatment, our office also offers emergency services for root canals in Philadelphia, Pennsylvania.